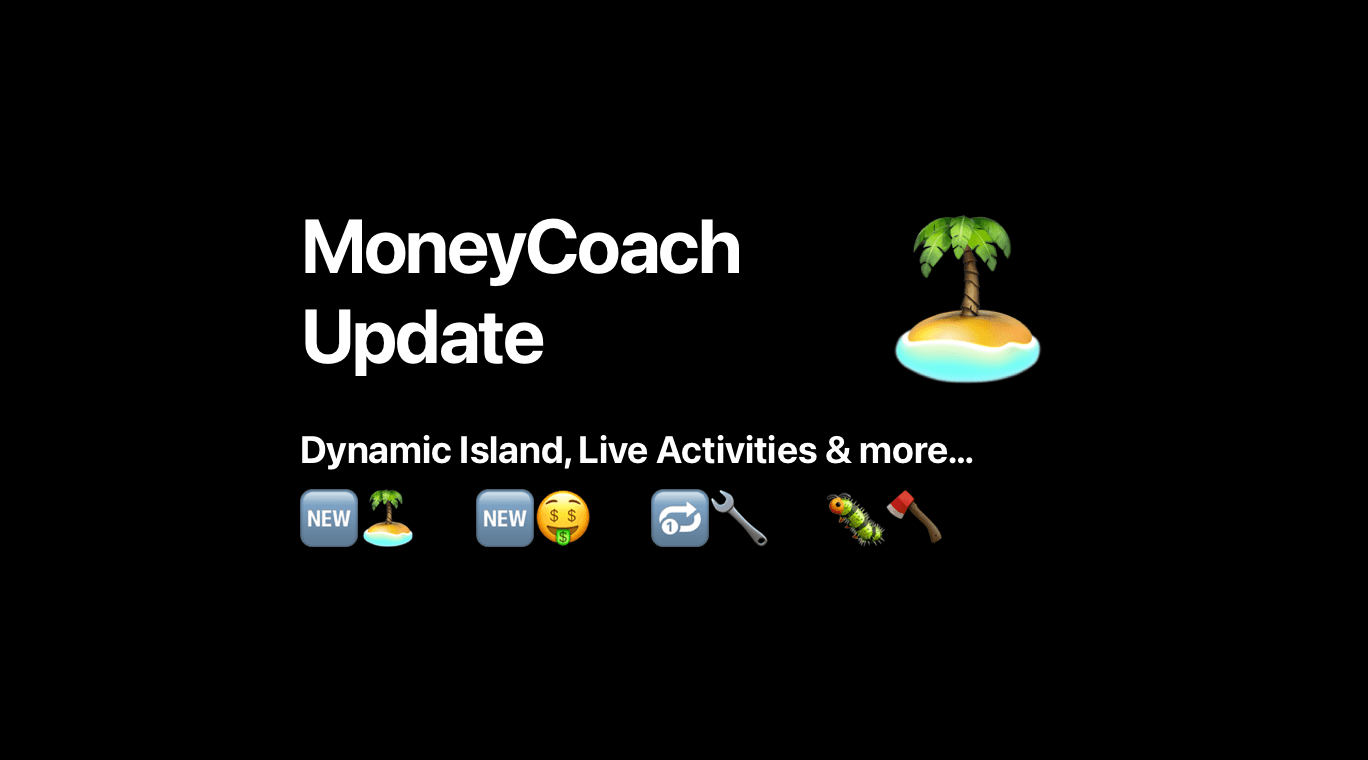 Here's new in this update:
New custom app icon
New Hong Kong bank account icons
Dynamic Island Support
Once you add a new transaction and move the app to the background, you will be able to see how much you've spent on that specific category during the current period and also a comparison with the last period. This is a really powerful new insight that will help you become more mindful of how you are spending your money.
For more information about this, click here.
Customizable Toolbars
On iPad and Mac, you can now customize toolbars to display the buttons for the actions you use most often in the Transaction Details screen so you can quickly access them. Quickly tap to change the amount, account, category, and date, and even delete your transactions.
Smart Menus
Now, when you are adding a new transaction, you can now long press on accounts and you will see all your accounts in a context menu. You can do the same for categories; the most used categories will appear on a context menu. This makes adding a new transaction even faster than before.
This update also includes other major improvements to the code and bug fixes that should make for a better overall app experience on the new OS versions. We hope you enjoy this new update with a big focus on iPadOS 16 and macOS Ventura.
That's it for today.
Keep those great reviews coming.
Best,
the MoneyCoach Team
Ecco cosa è incluso in questo importante aggiornamento:
Dynamic Island
Dopo aver aggiunto un nuovo movimento e sposti l'app in background, sarai in grado di vedere quanto hai speso per quella specifica categoria durante il periodo corrente e anche un confronto con l'ultimo periodo. Questa è una nuova potente funzione che ti aiuterà a diventare più consapevole di come stai spendendo i tuoi soldi.
Barre Personalizzabili
Personalizza le barre per visualizzare i pulsanti per le azioni che usi più spesso nella schermata Dettagli del Movimento. Tocca rapidamente per modificare l'importo, l'account, la categoria e la data e persino eliminare i movimenti.
Menu Intelligenti
Ora, quando aggiungi un nuovo movimento, ora puoi premere a lungo sugli account e vedrai tutti i tuoi account in un menu contestuale. Puoi fare lo stesso per le categorie e le categorie più utilizzate appariranno in una menu contestuale. Questo rende l'aggiunta di un nuovo movimento ancora più veloce di prima.
Questo aggiornamento include anche altri importanti miglioramenti al codice e correzioni di bug che dovrebbero migliorare l'esperienza complessiva dell'app.
Questo è tutto per oggi.
Grazie,
il Team MoneyCoach
Folgendes ist in diesem großen Update enthalten:
Dynamic Island
Sobald Sie eine neue Transaktion hinzugefügt und die App in den Hintergrund verschoben haben, können Sie sehen, wie viel Sie während des aktuellen Zeitraums für diese bestimmte Kategorie ausgegeben haben, sowie einen Vergleich mit dem letzten Zeitraum. Dies ist eine wirklich starke neue Erkenntnis, die Ihnen helfen wird, achtsamer zu werden, wie Sie Ihr Geld ausgeben.
Anpassbare Symbolleisten (iPadOS)
Passen Sie Symbolleisten an, um die Schaltflächen für die Aktionen anzuzeigen, die Sie am häufigsten im Bildschirm "Transaktionsdetails" verwenden, damit Sie schnell darauf zugreifen können. Tippen Sie schnell, um den Betrag, das Konto, die Kategorie und das Datum zu ändern und sogar Ihre Transaktionen zu löschen.
Intelligente Menüs
Wenn Sie jetzt eine neue Transaktion hinzufügen, können Sie jetzt lange auf "Konto" drücken. Sie sehen alle Ihre Konten in einem Kontextmenü. Sie können dasselbe für Kategorien tun und die am häufigsten verwendeten Kategorien werden in einem Kontextmenü angezeigt. Dadurch wird das Hinzufügen einer neuen Transaktion noch schneller als zuvor.
Dieses Update enthält auch andere wichtige Verbesserungen am Code und Fehlerbehebungen, die für ein besseres App-Erlebnis insgesamt sorgen sollten.
Das war's für heute.
LG aus Berlin,
das MoneyCoach-Team