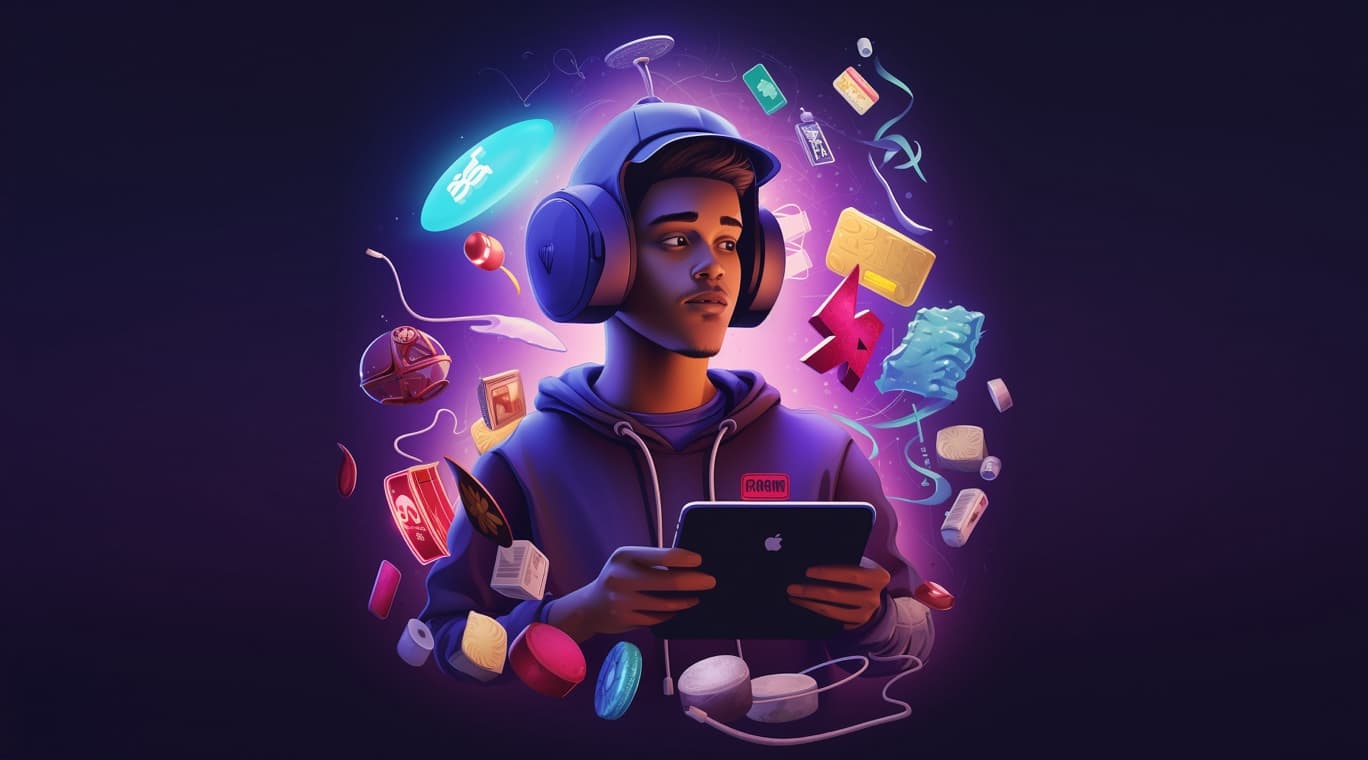 We all know subscriptions can add up fast, right? Well, MoneyCoach is like your trusty financial sidekick. It's here to make your life a whole lot easier and ensure your hard-earned cash isn't slipping through your fingers.
Add Your Subscriptions in 3 Easy Steps
The process is super straightforward. It's like a quick three-step dance routine:
Step 1: The Magical + Button
You start by tapping that floating '+' button. Select the account and quickly enter the amount of the subscription. For this example we will add $17,99 for a Netflix Premium subscription.
Step 2: Categorizing Your Subscription
MoneyCoach lets you organize your subscriptions with ease. Tap on the Category and either pick an existing category or get creative and create your own. Tap the tiny "+" button on the top right corner to create a new Netflix category. Make sure to also select the Netflix icon.
Step 3: Backdating the Past
Tap the ↪️ icon and enter the Repeating details. Choose the interval and the "From" (start) date of the transacion. This is where MoneyCoach takes it up a notch. You can travel back in time – at least, financially speaking. Want to start tracking your Netflix subscription from the very day you first hit "Pay"? You got it. MoneyCoach will work its magic and populate all your previous payments. Once you've filled in all the necessary details, just tap 'Save.' That's it! You've successfully added your Netflix (or any other) subscription to MoneyCoach.
For a more in-depth step-by-step tutorial on how to add a repeating transaction in MoneyCoach, check here.
Discovering Your Subscriptions
Afterward, when you take a peek at your Transaction list, your subscriptions will stand out with a subtle 'R' icon. It's like a little flag that says, "Hey, look at me!" If you prefer a one-stop shop for all your subscriptions, MoneyCoach has you covered with a dedicated tab just for Repeating transactions in the Transactions tab.
Diving Deeper with Subscription Insights
Now, let's explore the exciting part: MoneyCoach's Subscription Insights.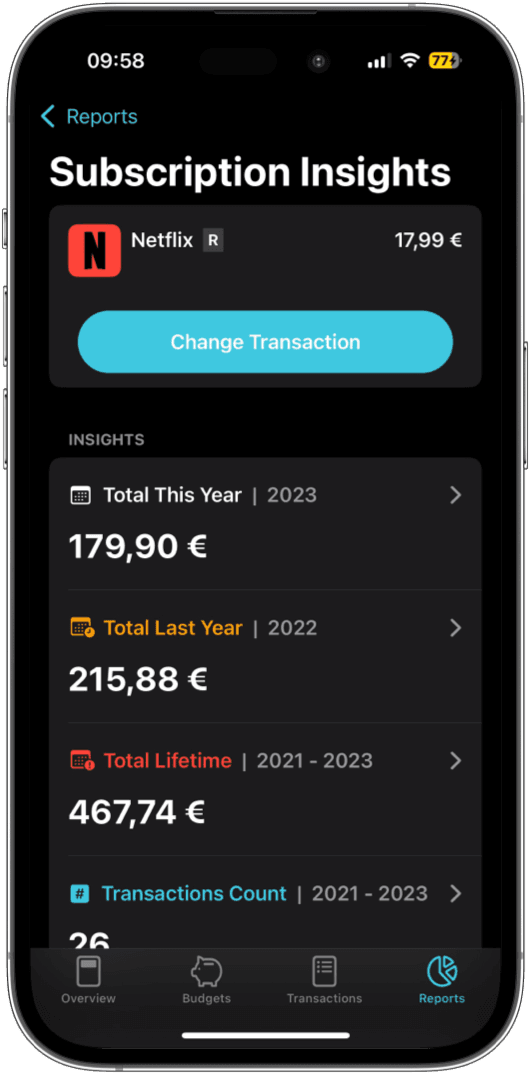 It's like turning on the headlights and seeing your financial path clearly.
The Reality Check
Did you know people often underestimate their monthly subscription expenses? It's true based on this survey! The average Joe thinks they spend $86 a month on subscriptions, but the real number is more like $219 – that's $133 more! Now, that's a bit of an eye-opener, isn't it?
The 'Aha' Moment
The Subscription Insights report is your financial X-ray machine. It unveils the true cost of each subscription. You can view costs for the current year, last year, or even your lifetime. Plus, you can access the nitty-gritty details of every transaction. It's like being handed a magnifying glass for your financial Sherlock Holmes investigation.
Life-Changing Discoveries
This report isn't just about subscriptions; you can use it to dissect your other repeating transactions, like rent and bills. It's like being a financial detective. Seeing the real cost might nudge you to reconsider some spending choices – I know it did for me!
Get a Monthly Money Snapshot
Another super handy tool in MoneyCoach's arsenal is the Subscription & Bills report.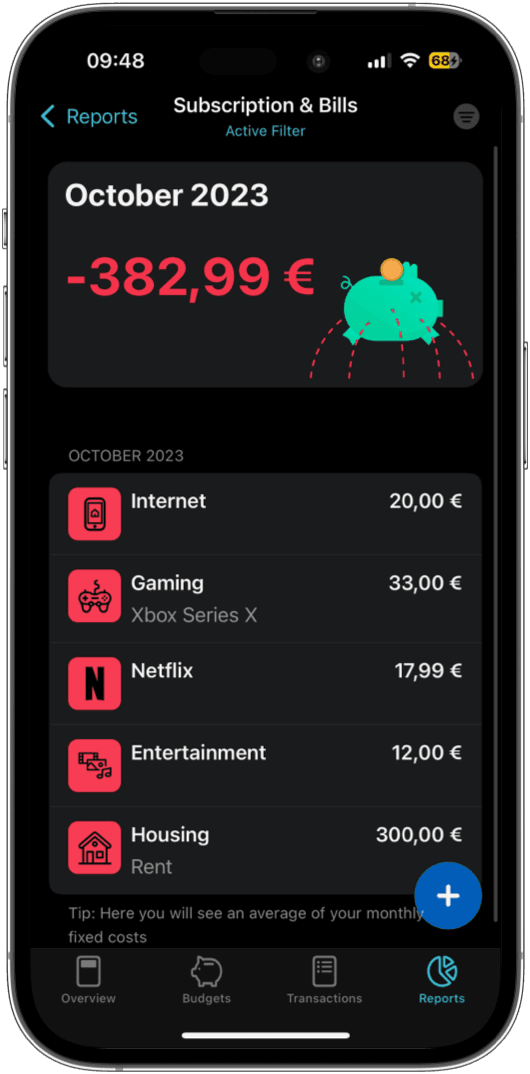 It's like a monthly financial health checkup.
Taking Stock
When you open this report, all your subscriptions and bills for the current month are laid out in plain sight. It's like a financial buffet. At the top, you'll see the grand total. Brace yourself; it might come as a shock! And based on that shock, you might want to cancel some of the subscriptions you are not actively using or benefiting from and save some real actual money each month. However, that is easier said than done.
The FOMO Dilemma
Okay, we've all been there. The fear of missing out (FOMO) is real, especially when it comes to shows and games. What if you miss that hot new show that everyone is watching like One Piece on Netflix or Loki on Disney Plus? Or what about missing playing Starfield on your Xbox Series X if you cancel your GamePass subscription? It is always there, FOMO or the fear of missing out. However, one strategy that I have personally implemented in my life is subscription rotation.
My Personal Experience
I am an indie app developer concurently developing a lot of apps like MoneyCoach, MoneySpaces, Screen Time Realtime Control, Decky etc. while also being the father of two highly energetic toddlers. I do not have time to well, sleep let alone binge watch 8 episodes of One Piece or play 100+ hours of Starfield just cause everyone else is doing it.
I wish I did, but I can't as I have other priorities in my life. That's why I stopped paying monthly for Netflix, Disney Plus and GamePass, cause I do not have the time to actually sit down and enjoy the latest shows or play the latest hot game. Now I just pay for Amazon Prime and I'm more than happy with the content that's available on Prime Video since I also just fall asleep like 20 minutes into the episode of whatever I'm watching anyway.
The Rotation Strategy
Just by cutting down those 3 subcriptions, I save $42 every month or around $504 in a year. Now that's a lot of money, isn't it? Then once I've exhausted all of the great content that's on Prime Video, I can subscribe for a month on Netflix or Disney Plus, try to watch the hottest shows as much as I can and cancel next month. Subscribe to a service for a month, get your money's worth out of it, cancel, rinse and repeat after a couple of months. You'd be surprised how much money you will be able to save by doing this subscription rotation.
So, there you have it, MoneyCoach isn't just a financial app; it's a money-management wizard in your pocket. It makes tracking and understanding your subscriptions a breeze. Give it a whirl and take control of your finances like never before! Your wallet will thank you. 💸🌟