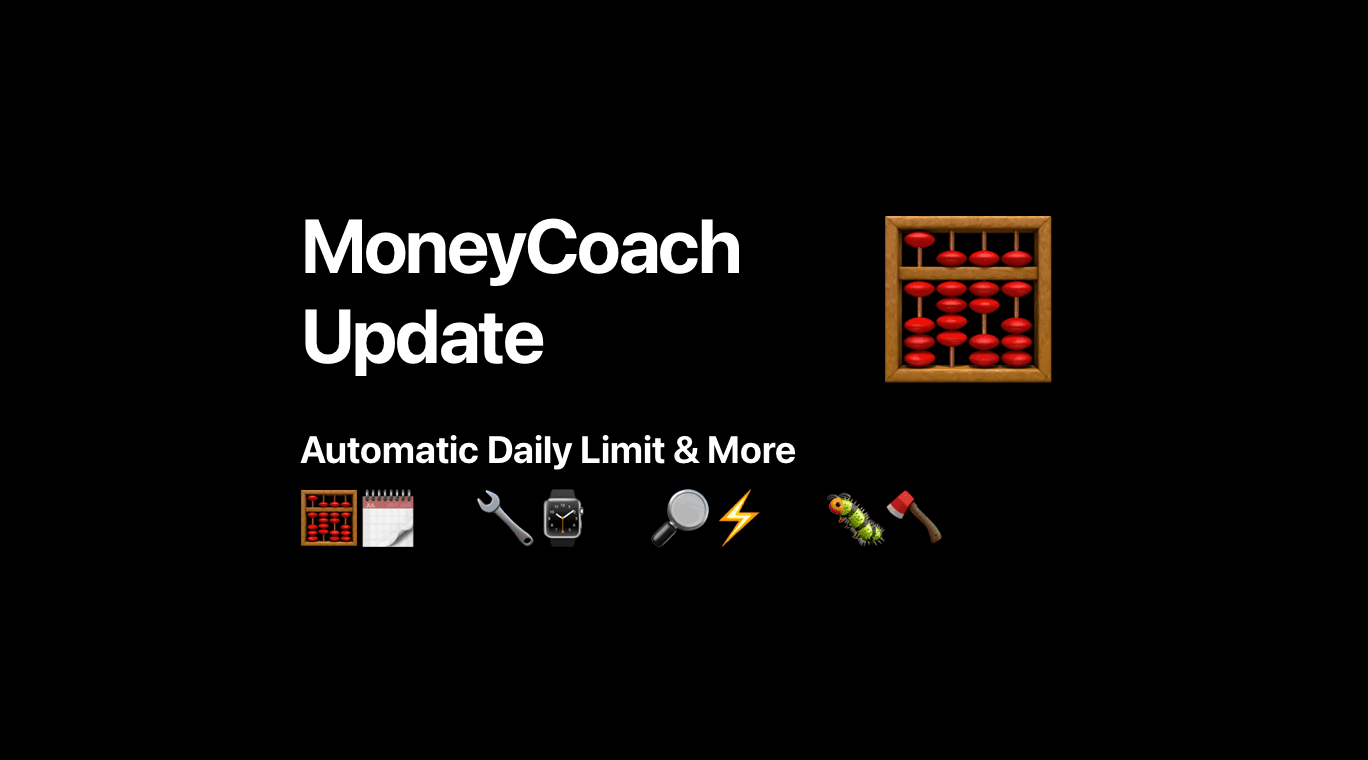 Here's what's new in this update:
Automatic Daily Limit
The automatic Daily Limit is back. Now you can either enter the Daily Limit manually or let the app set it automatically based on your remaining balance for the period.
Improved the Apple Watch app
Improved the Chinese Simplified localization
Improved the Spanish localization
Added a FAQ link in the Support tab
Fixed a bug with the report's charts
Fixed a bug with a custom icon preview
Fixed an issue with the show/hide accounts from Summary Cards
Fixed an issue for users who bought the unlock all premium package in the past, restore purchases to get them back
Fixed other minor bugs
If you have feedback or suggestions, please submit a support ticket from within the app. 
Best,
the MoneyCoach team
German
Folgendes ist neu in diesem Update:
Automatisches Tageslimit
Das automatische Tageslimit ist zurück. Jetzt kannst du das Tageslimit entweder manuell eingeben oder die App automatisch basierend auf deinem Restguthaben für den Zeitraum festlegen lassen.
Verbesserte Apple Watch-App
Spanische Lokalisierung verbessert
FAQ-Link im Support-Tab hinzugefügt
Es wurde ein Problem mit dem Anzeigen/Ausblenden von Konten aus Übersichtskarten behoben
Es wurde ein Problem für Benutzer behoben, die in der Vergangenheit das alte Premium-Paket zum Freischalten aller gekauft haben, Einkäufe wiederherstellen, um sie zurückzubekommen
Andere kleinere Fehler behoben
Wenn du Feedback oder Vorschläge hast, schreib uns bitte ein Support-Ticket aus der App heraus.
LG,
das MoneyCoach Team
Italian
Ecco le novità di questo aggiornamento:
Limite Giornaliero Automatico
Il limite giornaliero automatico è tornato. Ora puoi inserire manualmente il limite giornaliero o lasciare che l'app lo imposti automaticamente in base al reddito rimanente per il periodo.
Migliorata l'app Apple Watch
Migliorata la localizzazione in spagnolo
Aggiunto un collegamento FAQ nella scheda Supporto
Risolto un problema con il mostra/nascondi account dalle Carte Sommario
Risolto un problema per gli utenti che in passato avevano acquistato il pacchetto Sblocca Tutto Premium, ripristina gli acquisti per riaverli
Risolti altri bug minori
Se hai feedback o suggerimenti, invia un ticket di supporto dall'app.
Grazie,
il team MoneyCoach