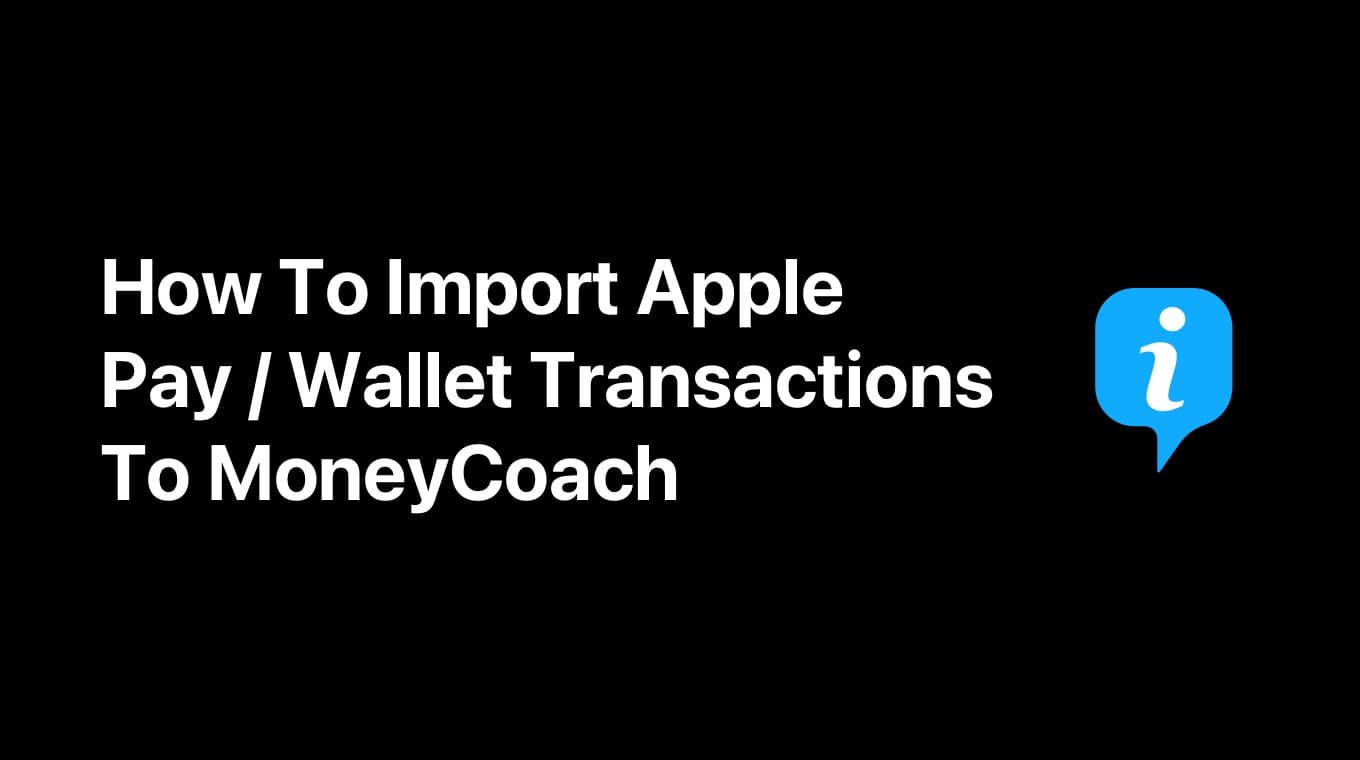 With MoneyCoach 9, on iOS 17 devices or later, we introduced the Apple Pay / Wallet integration. Setting this integration via a Shortcut Automation is easy and quick.
Here's a video tutorial on how to set it up:
Step by step guide
Open the Shortcuts app
Go to Automations tab and tap the "+" icon
In the Personal list, scroll and tap on "Transaction"
In the "When I tap" section select all of the cards you want to track. We suggest to select all.
In the "Category" section select all of the categories you want to track. We suggest to select all.
Scroll to the bottom and select the "Run Immediately" option
If the "Notify When Run" switch is ON, turn it OFF
Tap the "Next" button in the top right corner
In the "Get Started" section, tap the "New Blank Automation" card. If it's not there, search for it and tap it.
Tap "Add Action" button
Move to the "Apps" tab via the segmented control and select MoneyCoach from the list
Tap "Import transaction from Apple Pay / Wallet"
Tap on the ">" icon that's next to the Import transaction from Apple Pay / Wallet
In the dropdown, tap on the right side of "Card or Pass" to select an input
On top of the keyboard, scroll right until you find "Shortcut Input" and tap it
Once selected, tap again on the "Shortcut Input" button and select "Card or Pass"
Repeat the same process for each of the other inputs. Tap on the right side, scroll to find "Shortcut Input" and select it. Tap again and select the respective input eg. for "Merchant" select "Merchant", for "Amount" select "Amount" and so on.
Once you map all of the fields, tap the "Done" button on the top right side.
Congratulations, that's it!
Next time you make a physical payment with any of the cards that you included in the Shortcut, an automatic transaction will be added to MoneyCoach. The details of the payment will automatically be inserted to the transaction that will be added to MoneyCoach.
Once that transaction has been added to MoneyCoach. you can always check it and edit it in any way you see fit. MoneyCoach offers various tools and reports to help you gain valuable insights into your financial health.
Questions & Answers
Does this integration work for online payment?
No, it only works for physical payments, meaning if you pay via any of the cards you have included in the Shortcut. We are waiting for Apple to offer support for online payments.
I correctly set up the shortcut automation, but it is not triggering when I'm making a purchase. What's wrong with it?
Unfortunately, we don't have much access to see how this API provided by Apple works and as such it's difficult to pinpoint what's the cause of the problem. As it has been pointed by our users, this integration works most of the time. But we have also received messages from users that it doesn't work. Hopefully, with subsequent iOS 17 updates, we might learn more.
I have created an account in MoneyCoach for the card I use. But when the shortcut is triggered I get a message saying "Account does not exist in the app". What do I do?
The account name in MoneyCoach has to match exactly with the name of your card in the Apple Pay / Wallet app. So, for example, if your card in Apple Pay / Wallet app has the name "N26", the account name inside MoneyCoach needs to also be exactly "N26".
Can you explain how the options that I select when I set up the shortcut automation are mapped in MoneyCoach?
OK. So the options are mapped as follows:
Card or Pass is Account in MoneyCoach
Merchant is Payee in MoneyCoach
Amount is Amount in MoneyCoach
Name is Category in MoneyCoach
The usage of Name as the Category when the transaction is imported in MoneyCoach is not technically correct, but it's a current limitation of the API provided by Apple. For example, if you buy a pair of Nike sneakers in a Nike store, when this transaction will be imported in MoneyCoach it will also create a new category named "Nike". This kinda works, but it would make more sense if this transaction would be added to the "Clothing" category that already exists in MoneyCoach. Again, this is currently a limitation of this whole integration and we are waiting for Apple to improve it or give us more freedom to map it 100% correctly.
Does this work on macOS?
Unfortunately no as macOS does not support Shortcuts Automation yet. But if your iPhone or iPad are in sync with your Mac, then the imported transactions will also appear on the Mac.
If you have any other questions or feedback in regards to this integration, please submit a support ticket from within the app.