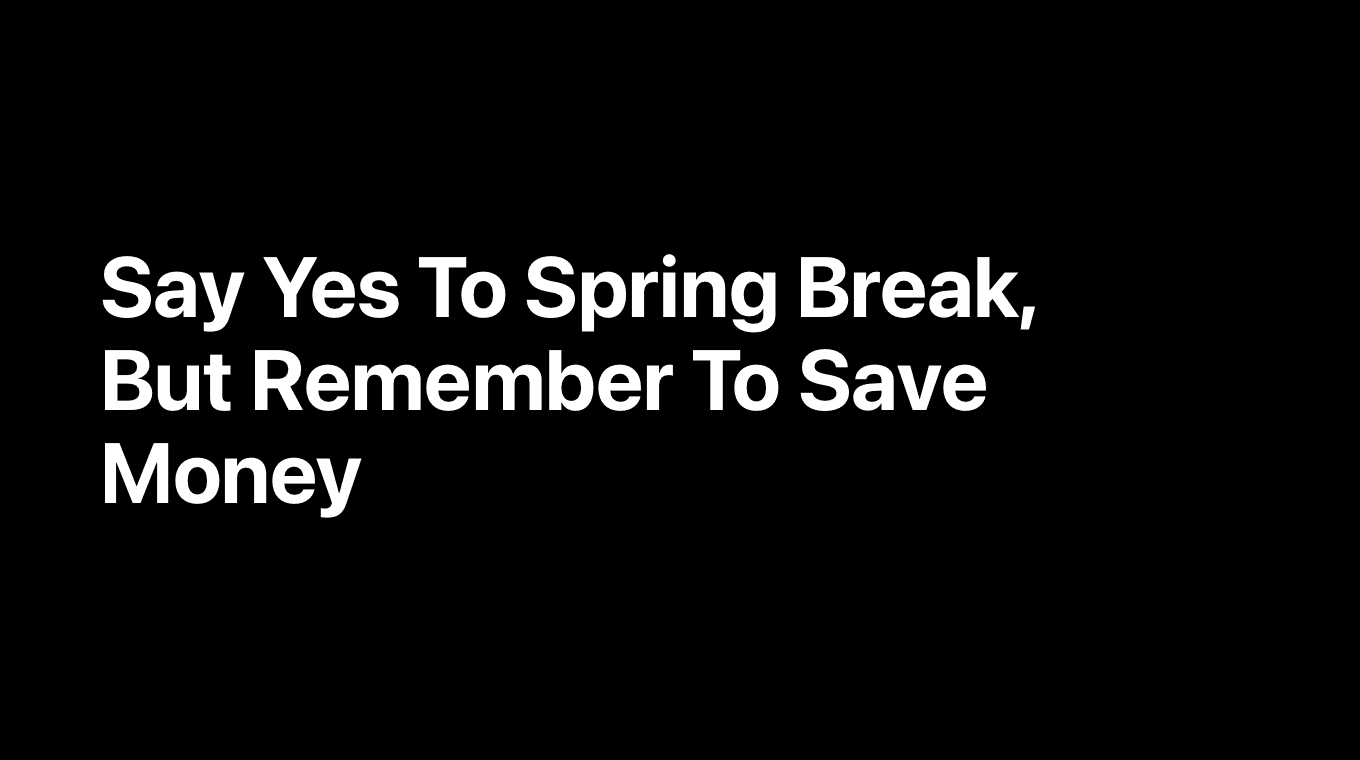 Spring break is around the corner and you're ready to chill. But while you've been slaving away to pass your midterms, you haven't made any plans - and you don't have much money.
Don't worry, we've got you covered with some easy tips on how to save money for Spring Break.
1. Plan Ahead
Depending on your spring break dates, it might already be too late for thorough planning and advance ticket purchasing. But plan what you can.
It is a big relief to know where you're going, how you're getting there, and what you'll need because that means less stress and less likelihood of extra expenses and last-minute rate hikes. Developing a budget now will help you save on staples so you can splurge where it counts.
2. Budget Accordingly
To determine how much money you can afford to spend on Spring Break, take a realistic look at your finances. When considering your budget it is important to prepare for the unexpected, so assume everything will cost ten percent more than you expect it to. This way you might end up with a little bit of extra cash to spend and you won't run short when it is time to pay the bills. Using MoneyCoach you can create an account called Spring Break and every time you have some extra money, add it up to that account. This will help you get faster to the budget you need for your vacation.
3. Pack Everything You Need
If you have to buy a camera, sunblock or other common tourist items once you reach your destination, you will pay much more than you would have at home. That's why you need to make a list so you don't forget stuff like sunglasses, hat, clothes, sneakers and sandals, and whatever else you need.
4. Your Student ID
Especially if you're going to a popular destination with high prices, there are probably student discounts that can bring things down to more reasonable rates. Sometimes you need a local ID, sometimes not; ask. On the other hand, there are a lot of people looking to scam students on spring break, so be skeptical of "student discounts."
5. Road Trip
Another way to save some money might be a road trip. Wherever you're going, you'll have a way to get around. If you listen to our earlier advice and decide to travel with your buddies, you can take the most fuel-efficient car you've got between you and split the cost of gas. Traveling with friends can be almost as much fun as wherever you're going.
6. Get Groceries
Keep your food costs in check, because we know that meals out can be one of the largest – and most underestimated – expense on a multi-day vacation. Stop by the grocery store and pick up at least enough food for breakfasts, lunches and snacks to cut down on overpriced meals served at overcrowded restaurants. Bring a cooler along and shop for food that's ready to eat (or that you can easily cook) at grocery stores. And if you're staying at a hotel, take advantage of the continental breakfast if it's offered.
7. Discount Card Programs
Most, if not all, of the spring break destinations, in addition to the coupon-filled brochures that can be found in hotel lobbies and visitor centers, offer students a discount party pass which usually includes happy hour specials at various bars and clubs, plus a wide range of discounts at local stores and restaurants. Contrary to what you may believe; these cards are designed to save you money.
Now you're ready to party. Enjoy it!