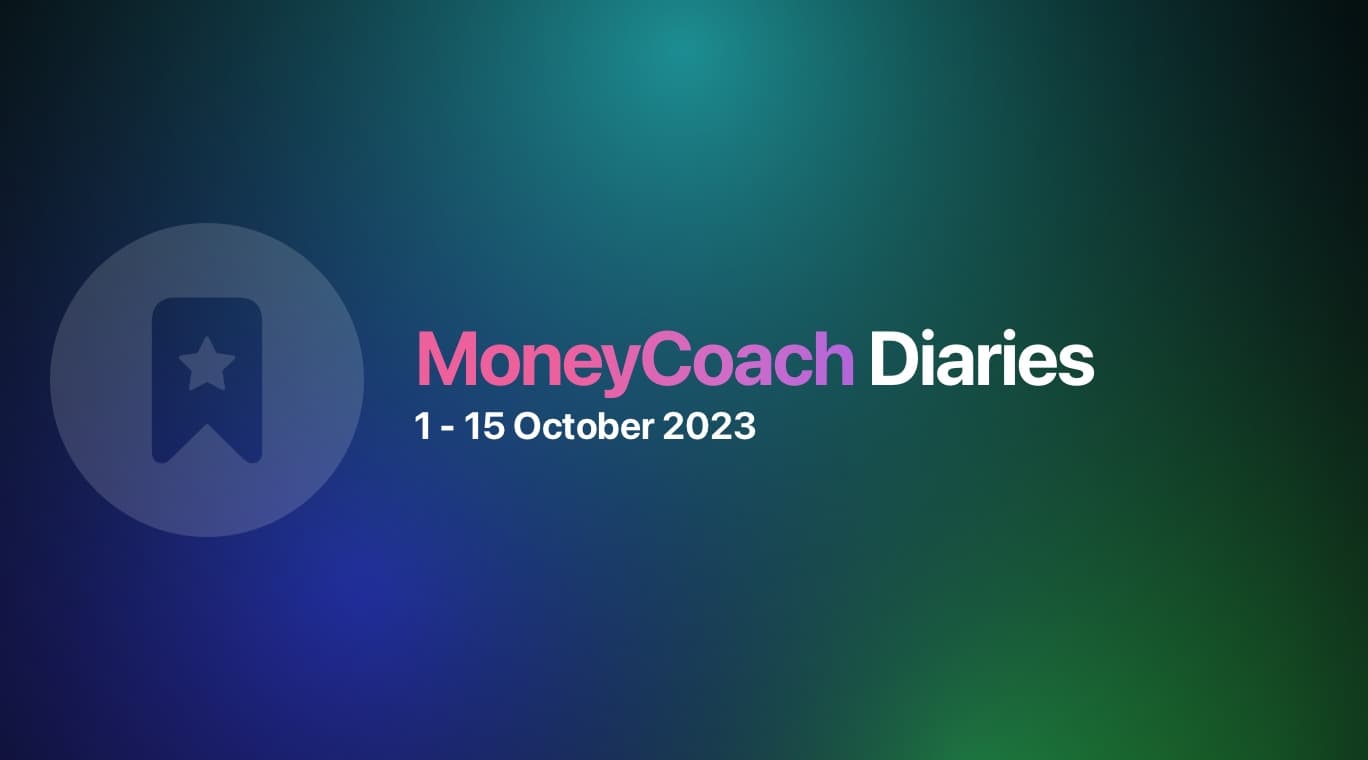 MoneyCoach Diaries is my ongoing journey to turn my indie app into a more sustainable part of my business. First time reading? See what happened until now by tapping this link.
Hello again, it is time for another MoneyCoach Diaries. This time we will talk about the period between 01 - 15 October 2023. We release 1 new little update and one big update. You can read more about below.
As I am writing this update, I don't even remember anymore what happened during this period. I guess I will find out as I write this. Let me open my books 📖 ... [5 Hours later]
I am back.
My Journey On Social Media
I want to be more productive and get more things done. So I decided to try out a new experiment.
Everyday, I will be present on social media and develop my apps. I will do this for 30 days and see how it goes. I will also share my experience on TikTok and Instagram. So follow me there if you want to see how it goes. My priority will be Instagram, because I believe my audience is more present there.
Here are my links:
Did I forgot to tell your that I will be posting exclusive offer and giving away free Premium subscriptions? Well, now you know. So follow me there. Bonus points if you follow me on both platforms. 😄
Why now and not before?
Well, it's about timing and priorities. Building a startup, especially in the tech industry, can be all-consuming. Every entrepreneur understands that. But as MoneyCoach has gained stability and growth, I'm in a better position to balance my time between my family, my app development, and this new social media experiment.
So, here we go, on this 30-day journey, where I'll strive for productivity while keeping you in the loop on TikTok and Instagram. I'm looking forward to sharing my experiences, engaging with all of you, and working on becoming even more present for my family and kids while pursuing my dreams. And if you want to help me out, follow me on both platforms and share my posts with your friends.
Your support means the world to me, and I'm forever grateful for it. Let's make this journey together! 💪😄📱
What to expect from Perjan on social media
Behind-the-Scenes Insights: On both TikTok and Instagram, you'll get a firsthand look at the world of app development. I'll take you behind the scenes of the creative process, share the ups and downs of software development, and give you a glimpse into the daily life of a developer and entrepreneur.

Exclusive Offers: As a token of my appreciation for your support, I'll be rolling out exclusive offers and giveaways for MoneyCoach Premium subscriptions. This is my way of saying thank you for being a part of the MoneyCoach community.

Product Updates: Stay updated on the latest features, updates, and improvements in MoneyCoach. I'll provide you with in-depth explanations and demonstrations of new functionalities as they roll out.

Tech Insights: Expect to dive deep into the tech world with me. I'll discuss iOS, iPadOS, watchOS, and macOS app development, as well as share insights on the latest trends and best practices in the tech industry.

Entrepreneurship and Business Talks: I can talk for hours about startups, running them, and strategies to increase revenue. You'll find discussions on entrepreneurship, business development, and revenue growth to inspire and educate those interested in the field.

Interactive Engagement: I'm here to engage with you, answer your questions, and have meaningful conversations. Your feedback, comments, and questions will be valued and addressed.

Balancing Work and Family: I'm on a journey to balance my work with being present for my family and kids. I'll share my experiences, challenges, and strategies for achieving this balance, which might resonate with those in similar situations.

Community Building: Together, we'll create a community of like-minded individuals who share a passion for tech, innovation, and personal growth. I encourage you to connect with each other, share your insights, and be part of this growing community.
So, if you're into app development, tech, entrepreneurship, and you're curious about how I manage my journey as an entrepreneur and family man, follow me on TikTok and Instagram.
But enough about me. Let's talk about MoneyCoach.
The Little Update
Better Search
A Premium user wrote me on WhatsApp. He wanted a better search in the Transactions list. He wanted the search to be "smart" enough to work with multiple keywords and not just one. So for example, if he searched for "coffee starbucks" he wanted to see all the transactions that had the word "coffee" and "starbucks" in them. The old search showed only the transactions that had the word "coffee starbucks" in them. So I made the search smarter and now it works as he wanted.
[New] Now when you search for "starbucks coffees" or "coffees I drank with my friends at Starbucks", it will work as expected.
Have you tried it out? What do you think? Send me a DM on Insta or TikTok. Or on Twitter.
Improved Credit Card Details
Then we had some requests and bug reports related edge cases in the credit card's details page. Now, credit cards are tricky. 100x more if you factor in future transactions and other fancy toggles you have inside MoneyCoach. Long story short, now it is better. Some bugs got squashed in the meatime as well.
If you want to read what we did, check out this article
The Big Update
Let me tell you the story of a big feature. It all started with a great coffee. It looks small on the outside, but it is covered by layers of complexity. It is the most requested feature in MoneyCoach. It is the Export to PDF feature.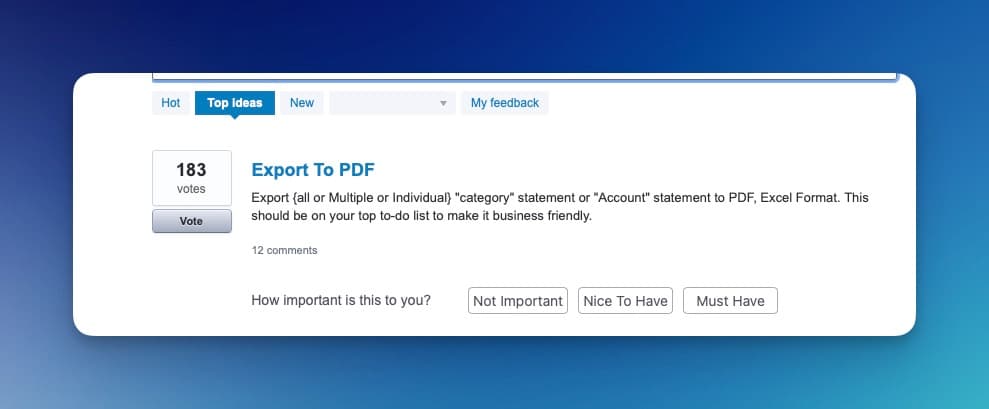 Oh wow, this is big. We had this as our most requested feature as of October 2023. By the way, you can vote or propose a feature in MoneyCoach by following this link.
It all started with a great coffee
One day I had my friend and indie developer, Felix in my office. We sat down for coffee, as I prepared him a world-class Cappucino. Pro Tip: No sugar. Just milk and coffee. Trust me, it is the best. I showed him our most requested feature and we decided to do something about it. So we started working on it. We had a lot of fun and we learned a lot of new things. He focused on the pdf generation and I focused on the UI and UX inside the iOS app. A couple of hours later, Felix completed his job and went home. I tested it and it worked perfectly fine with the small demo csv we had.
Another coffee, please.
As Krist came to the office, we sat down and discussed how to implement this inside the app. We thought about what you requested and translated it in a way that made sense inside the app. We decided to make it available in the Reports section, for 3 reports. So you can export the reports you have there. We also decided to make it available in the Transactions list. So you can export the transactions you have there. And we also decided to make it available in the Accounts list.
More work for me. I hate real-life testing.
We already had the pdf generation ready, so we just needed to make it work inside the app. Then Krist did the testing. It went great again. Then I exported an account list with emojis on their name. And the pdf generation pooped its pants. It turns out that the pdf didn't export the emojis correctly. I researched for hours without success.
Then I exported my data, some of the descriptions being in German and containing special characters. And the pdf generation pooped its pants again. Ok, that's not ok. I then exported some data with Chinese characters. And then... Well, you know the drill by now.
Pfff. Back to the drawing board. Cue the Spongebob meme. [3 hours later...]
I found a solution. I had to use a different font that supported special characters for the pdf generation. I had to rewrite some things and test back and forth. But it worked. And it worked great.
Test it out and let me know what you think. I am really proud of this feature. It is the most requested feature in MoneyCoach and I am happy that we finally have it. Oh and did I already tell you that you can export your data in 2 different formats? PDF & CSV? Yeah, I know. I am awesome. 😄 And if you want to read more about this feature, check out this article.
Final result
Here is a video of the final result. I hope you like it.
Take a look at this gorgeous export menu. You can find it in a lot of places inside the app. And it is available for Premium users. You love and support the app. And we love you back. ❤️.
Once again, my social media profiles
Here is my profile again. Tap this beautiful link. And if you're more into TikTok, here is the most amazing link you have ever seen 🤣.
DM me and I will thank you personally 💌. Thanks.
Thanks for reading out so far.
Dominate your money and drink great coffee.
Best,
Perjan