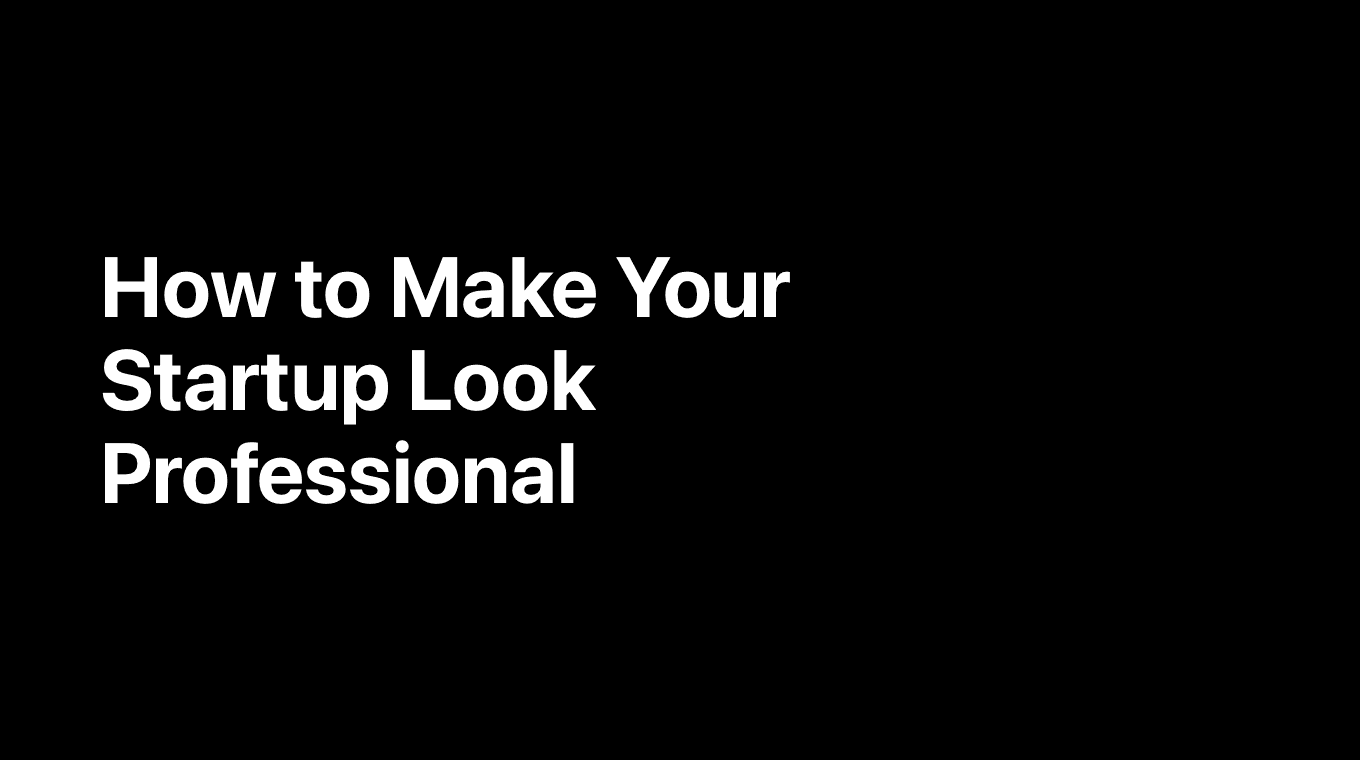 When starting a business, there are a lot of factors you must focus on in order to make your company successful. Developing a product, promoting your startup and positioning yourself on the market must be done professionally. That way, other businesses and online consumers will take you more seriously, while you drive your business forward. That's why it's important to make a good first impression, even if your startup isn't fully developed yet.
In order to achieve that, there are a couple of things you'll have to take care of first. This, however, may prove to be a bit difficult to accomplish. The main reason is that startup owners are too busy managing everyday tasks while developing a minimal viable product (MVP)they'll present on the market. It would seem there's no room or time to look professional, but professionalism is crucial for giving your startup a much-needed boost. So, here are a few ways you can make your startup look more professional.
Develop a good website
Nowadays, a website is the most important aspect of any business, regardless of its size. Having a well-designed website is crucial for appearing more professional to customers or clients. When developing a company's website, you must think of both design and functionality. A properly designed website, with the right colors, visuals and categories is neat and professional in the eyes of your website visitors. Moreover, ensuring its functionality is up to the latest standards shows that you do things accordingly.
For example, ensuring your website is safe, fast, user-friendly, responsive and easy to navigate portrays your website as professionally developed. Not only that, but your website visitors will enjoy a seamless experience while browsing your website, which in turn, guarantees their satisfaction. Furthermore, don't forget to optimize your "Contact us" and "About us" page so that your audience can familiarize themselves with your business and contact you for additional information should they need to do so.
Create a social media presence
Social media platforms have become the hub for modern businesses. The main reason is that social media offers vast opportunities for businesses to promote themselves and establish relations with their target audience. However, social media can also be utilized to showcase your startup's professionalism. It all comes down to your social media pages. For example, if you create a business page for your startup on Facebook, make sure everything is well-organized and optimized to make it more professional.
For example, add a profile picture and cover photo, fill in company information and business hours, share only highly relevant content with your audience, add call to action buttons that are also highly relevant and so on. The more you optimize your business page the more professional you and your business will appear. You can also build a presence on LinkedIn, especially since that social network is more business oriented in general. That way, you'll have a professional social media presence, your audience can easily check out if they want to learn more about your startup.
Add a bit of luxury to your business
When mentioning luxury, people always think of more expensive stuff at first. However, luxurious doesn't necessarily have to mean costly. For example, it's important for you as a business owner to attend important networking events. Networking can be a good opportunity to meet new people and build both visibility and awareness for your startup. Not only that, but networking is good for publicity and offers a unique chance for you to engage with your target audience.
However, in order to appear more professional, you can add a bit of luxury to your public display. In that case, you should avoid renting a minivan to drive you and your team members to the event. Instead, opt for a large SUV with 7 seats, so you and your colleagues can arrive in style. That way, you'll be noticed for sure and you'll be perceived as a professional business owner. After all, you are the face of your startup business.
Get professional contact information
It's very important for any business to have proper contact information so that your customers or clients can easily reach you. If you want to be more professional, don't include your personal phone number or address. Instead, acquire a business address or a P.O. Box and a phone number for your startup business. As far as the phone number goes, you don't have to do anything extravagant. A simple Google Voice number will do just fine.
That way, you can separate business contacts from your personal ones and remain professional. As for the address, it's important to be professional as well. If your startup doesn't have an office space and you don't want to include your home address, you can set up a virtual office or get a box from a local post office. That way, any business related mailing or packages can safely be delivered to the place of your choosing.
Many startup owners believe that a professional vibe comes later when their business becomes well-established and developed. However, it's never too early to create a professional image for your business and for yourself. The sooner you do this, the sooner you'll be able to reap the benefits of having a professional business.