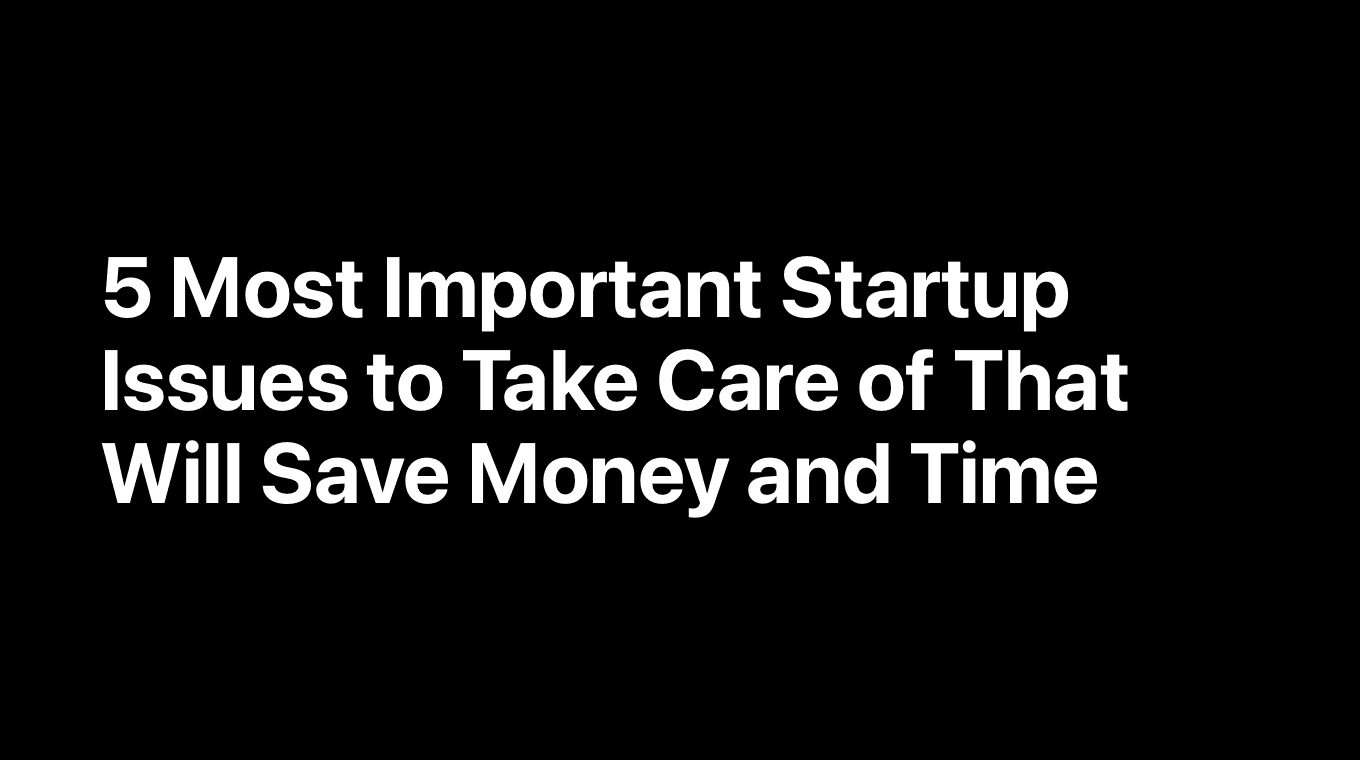 Starting a business is a challenging task filled with all sorts of obstacles. What's more, the market is highly competitive and crowded, making it difficult for new startups to find their product-market fit and make themselves well-known. Nevertheless, numerous startups find ways to overcome these challenges and eventually reach success.
The key is to determine the main difficulties you'll face once you decide to start your own venture and find the means to overcome them. However, that's easier said than done, especially since you can't know for sure what kind of problems you'll be faced with. Still, there are issues common for all new startups that can prove hazardous to your business. Here are a few most important startup issues you need to take care of early on that can save you both time and money.
Determine the best idea for your business
Every business is based on a founder's idea. However, simply having a good idea for a business may not be enough to achieve success. The main reason is that there are a lot of businesses on the market and chances are, that a few of them are already established on the same idea you have, in one way or the other. That's why you need to focus your business idea on what consumers actually need instead of gambling with what they might like.
The best way to achieve this is to conduct thorough market research. That way, you'll have a business idea that will surely work and a consumer base that will benefit from what you have to offer. After all, having a foolproof business idea saves you money and time on experimenting with something that may not turn out to be a successful business enterprise after all.
Don't start a business alone
Running a business is hard enough as it is, and trying to do everything on your own is even more difficult. That's why it's a good idea to find a co-founder for your business. As a matter of fact, you'll need to do a lot of work before you're able to afford a payroll, and as the saying goes: "Two heads are better than one".
That means you can use someone to help you do the work, as well as help you come up with new ideas. For instance, raising funds can be a full-time commitment, leaving you with no time to devote to your business development. Moreover, investors generally like multiple founders, as they believe it helps a company grow more successfully. What's more, running a startup business can get quite stressful and frustrating, and you'll need someone to help you get through it.
Secure funding
A large number of startups is founded each year. But, it's no secret that many startups ultimately fail. In fact, nine out of ten startups fail. The main reasons startups fail, according to research, is no market need 42% and running out of cash 29%. Therefore, finances are one of the top concerns for startup owners. Many business owners look for outside capital sources, such as angel investors, venture capitals and crowdfunding.
However, securing funding from investors is not as easy as many believe it to be. The fact of the matter is that you need to convince investors that your business can reach success by supporting your claims with evidence, such as social proof, minimal viable product (MVP), growth margins and so on. If you have what it takes to convince the investors, you should definitely prepare a term sheet in advance to record the terms of your negotiations.
Understand your customers
When starting a business, customers will be your top priority. Even during the startup stage, you still need to market your business and capture the attention of your target audience. However, in order to save both money and time on this effort, you need to have in-depth understanding of your target audience. For example, try identifying their needs, demands and expectations, so that you can always strive to meet or even exceed their requirements.
Make time to engage with them on social media. That way you can build your online presence while finding as much as you can about your potential customers. Make sure you understand their demographics as well. Who they are, what they do, where they live and so on will give you insight into how to create the best approach, so that your offers have the best impact.
Don't overspend
One of the most common mistakes startup owners make is spending funds on things that they don't really need. It's important to understand that running out of funds can easily mean the end for your business. Even if you've managed to secure funding from investors, spending too much can burn through your entire budget and lead to outstanding debt.
Focus your budget on what is truly important, such as developing an MVP, marketing campaign, web design and so on, in order to avoid financial issues. Don't spend funds on offices spaces and supplies if you can manage to complete all your tasks from home. Also, don't hire employees too soon if there's nothing for them to do. This is especially true for hiring managers and advisors. You'll only waste funds on rent and salaries when there's no real return on investment.
Running a startup business is never easy. If you don't know what you're doing, even a simple mistake can create multiple issues, and lead to business failure. That's why you need to familiarize yourself with common issues startup businesses face and deal with the most important ones. That way, you'll have a good chance of reaching success.