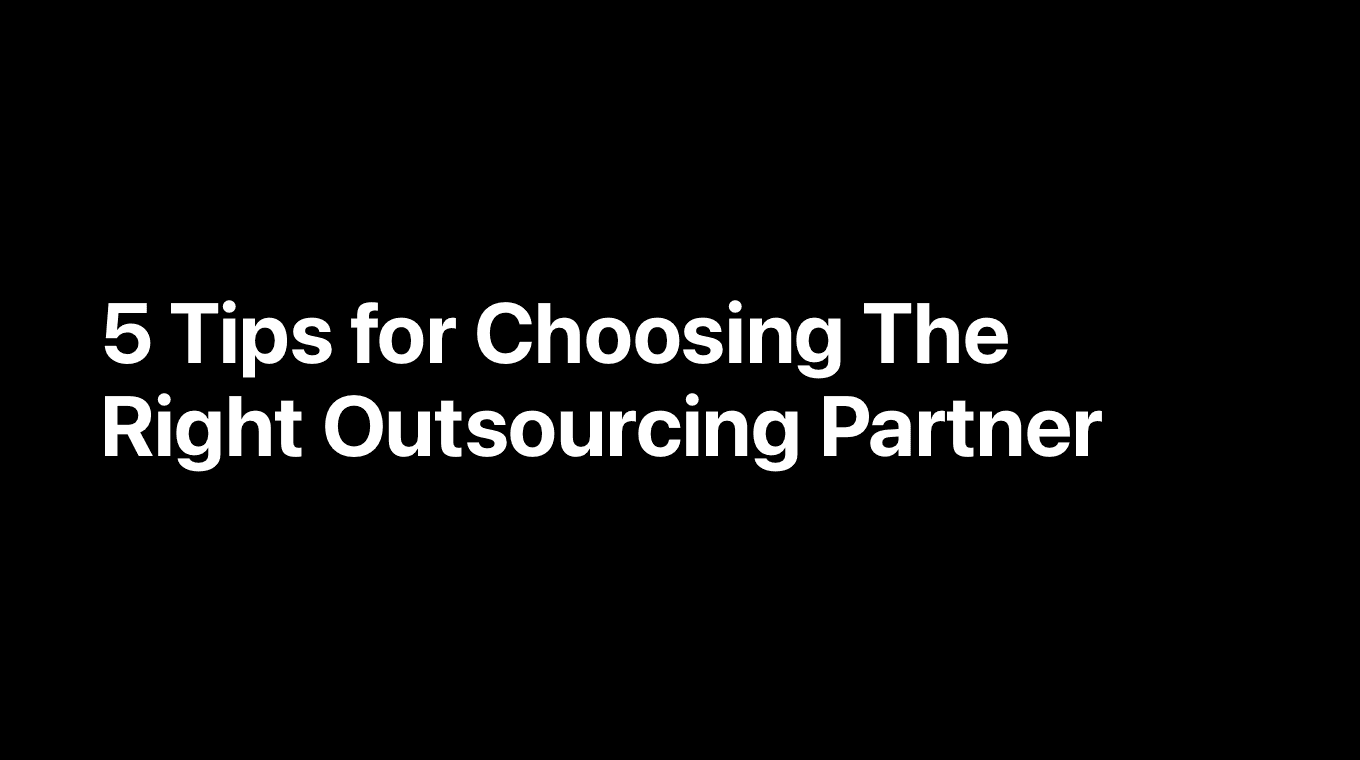 Many new businesses on the market start off strong and show great potential for future growth. However, oftentimes these new startups lack proper resources or expertise to develop further. Fortunately, technology has allowed startups and small businesses to easily outsource services, operations and tasks they can't handle on their own to other companies. Simply put, outsourcing is a way for startups to cut costs and shift tasks to third-party companies.
That way, startups don't have to implement additional departments and hire experts, which will strain their already strained budget. Instead, startups can simply delegate business operations to outsourcing companies and establish partnerships with them. This will allow startups and SMBs to develop and grow further, while also helping them become more productive and efficient. Here are a few tips for choosing the right outsourcing partner.
Clearly define your goals
Before you start looking for an outsourcing partner, you have to assess your company's strengths and weaknesses. You should outsource if you aren't proficient in specific business aspects or you lack the resources to develop those business aspects further. That's why it's better to let the professionals take care of it, instead of trying to do it yourself and risk making a huge mistake. Therefore, go through all of your business operations required for your startup to develop properly and find the aspects you're least proficient at.
For instance, you may not know anything about accounting, law, IT, web design etc. and you need to outsource these tasks to someone who's good at those things. Once you've identified what you want to outsource, it's time to define clear goals about what you want to accomplish by outsourcing and make a template that will be easily understandable to your outsourcing partner. For example, you need a 100% uptime for your website and strong security features. That way, an outsourcing company will know what to do, in order to meet your needs.
Look for reviews
Deciding which outsourcing partner to choose should never be based on an impulse. Picking someone just because their prices are the lowest isn't a criterion you should base your decision on. Instead, you should do some research to identify potential partners. A good way to select a few is to check out online reviews and testimonials from other clients.
Client testimonials will provide you with an honest insight into an outsourcing company's operations and how satisfied are their clients with their services. Moreover, focus on how did an outsourcing company help a particular client and see whether the clients have referred them to anyone else. This will help you determine which outsourcing partners may be good for your businesses, based on their previous work, reputation and client satisfaction.
Look for qualities
Every outsourcing company operates in a unique way. The key is to choose a partner whose qualities match your needs. Moreover, their qualities must match your company's culture so that you'll always have the best communication and collaboration with your outsourcing partner. If your outsourcing partner doesn't match your requirements, you may experience issues and conflicts that may prove difficult to resolve.
That's why you need to find a reliable and experienced outsourcing partner, that will meet your business needs and help your business develop and grow further. However, looking for specific qualities in outsourcing companies may take a lot of time and effort before you find the right one to hire. On the other hand, you can consult with experts from 2Easy that can find an ideal outsourcing partner for you, based on the criteria and qualities you specify.
Check if there are additional costs
One of the main goals of outsourcing business tasks is for startups and SMBs to cut costs and prevent overheads while focusing their budget on development and growth. That's' why you need to ensure that the outsourcing partner doesn't charge extra for services and implementations, such as infrastructure, connectivity, communications, etc.
You have to make sure that prices for services are fixed and that there are no additional or hidden costs that may prove to be more than you can afford. After all, once you've signed the contract, there's no easy way to fix the issues you weren't aware of.
Test their competence
No matter how good an outsourcing company may seem to be, you still need to be 100% sure that you're choosing the right outsourcing partner. That's why you need to test their competence and ensure that they have the experience, expertise and infrastructure to meet your business needs.
Take a deeper look into their business operations and what methods they use to resolve issues and track progress. This will give you insight into how well your future outsourcing partner performs. It's important to understand that you need a partner who can do their job well and meet your business needs, as well as a partner you can rely on and not worry about them messing things up.
Choosing the right outsourcing service provider for your partner isn't as simple or easy as it sounds. If you rush this decision, you may end up with more problems than you might imagine. That's why you need to research your potential partner well and ensure they're up to the task.